Live Martial Arts was created so that anyone can learn and achieve their Martial Arts goals from anywhere in the world.
You Should Join If:
You're a Martial Artist looking to gain resources to take your training to the next level.
Your Martial Arts school doesn't offer specialty classes like Nunchucks, Bo Staff, High-Performance Sparring, but you want to go the extra mile to learn & train online
You're looking for a driven community of like-minded, motivated Martial Artists
What You Get When You Enroll As A Student:
Instant access to a library of e-courses with workouts to help you get closer to your goals.
Access to the exclusive, members-only Live Martial Arts Facebook group with live Q&A sessions, training tips, and accountability & encouragement from other LMA students.
Exclusive price perks on courses & training apparel.
FAQ's
Is this just for Beginners / Just for Black Belts?
The courses are for Martial Artists at any level. There are drills catered towards beginners as well as high-performance and advanced training for Black Belts who have been training for years.
How long do I have access to the courses?
You get access to the course you purchase for as long as you'd like!
How Do I Join the Facebook Group?
Joining Live Martial Arts gives you access to a members-only Facebook group. After you enroll as a student, you will receive an email with information to join.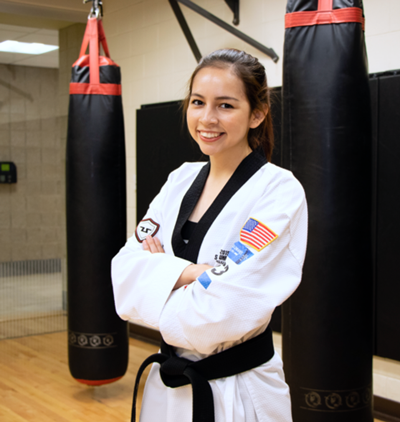 Samery Moras is a Kukkiwon-certified 4th Dan Black Belt in Taekwondo. She spent 6 years traveling as part of Team USA as a competitor in Sparring, competing & training in places like Korea, Australia, Spain, China, Peru, and more. When she traveled overseas for competitions, she started creating videos on her YouTube channel which now has now accrued millions of views. Aside from her athletic career, she also owns 2 Martial Arts schools in Utah, and loves to teach and share her passion in the Martial Arts.